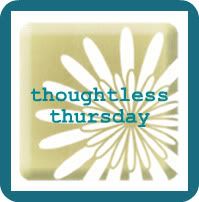 It's time for Thoughtless Thursday with
Mrs. Katie
(go visit her if you haven't already - she's pretty fabulous), I give you with a sneak peak of the nursery bedding & paint color - I'm totally in love!
The walls look yellow here, but they're actually green - Honeydew Melon by Porter Paints.
Bedding is Katie from Pottery Barn Kids
Now I'm taking a very short blogging break. You may remember that we're having
new floors
put in and having pretty much
every room in our house re-painted
. Well, IT'S OFFICIALLY DRIVING ME CRAZY AND I'M OVER IT!!! I know I don't really get to complain since this was all my idea and when it all is finally finished I'm going to absolutely love it, but, in my defense, our floors were supposed to be done the 2nd week of June (FYI, it's now the 3rd week of July) and the painting was supposed to be done yesterday (this had already been rescheduled once because of the floors). Well neither are complete and I JUST WANT MY HOUSE BACK! The floors are almost finished (I've been told they will be 100% by tomorrow, but at this point I'm not holding my breath) and the final room is supposed to be painted tomorrow. Currently, everything in our house is covered in a nice layer of dust from removing the carpet - seriously, it's awesome (insert sarcasm and ginormous eye-roll here), not to mention there are random boxes everywhere from having to move stuff from room to room. It looks like we just moved into our house over the weekend - not 3 years ago! So I'm going to spend some time trying to de-dustify my house and reassemble some sort of organization amidst this chaos because I just can't take it anymore! I apologize for my rant, but I just had to get it all out because the husband just laughs at me and says something along the lines of, "Well, you're the one who wanted to do everything at once." Thanks, dear, but probably not the best thing to tell your 5 month pregnant wife who's about to have a coronary! :) When I return, there will be lots of after pictures of everything we've had done.
Have a great weekend everyone and hopefully I'll be back Monday (in a MUCH better mood)!
** P.S. - I'm going to my first consignment sale Saturday so if any of you new moms/moms-to-be have any advice in this area I would greatly appreciate it. I've heard they can be a little overwhelming (and even scary) if you don't know what you're doing!