I'm linking up with one of my favorites,
Shannon
, today.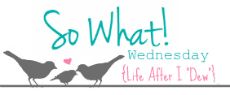 So what if:
I haven't blogged in FOREVER (other than Abby's monthly letters...which are ALWAYS late) and I keep putting off returning because I have no idea where to pick up. Maybe I'll just do it and act like I never left. Maybe.
one of the main reasons I don't blog anymore is because I can't seem to find time to upload pictures to the freaking computer. And let's not even talk about editing said pictures. I mean, can someone please just come do this stuff for me?!?!?
I am completely overwhelmed with joy that one of my sorority sisters who was diagnosed with pancreatic cancer almost 3 weeks ago had a 100% successful surgery and is now cancer-free. Miracles do happen and God is good!
I just put myself on the wait-list for a Blissdom ticket even thought I know I can't get off work. Maybe I'll just come to the stuff in the evenings and on Saturday.
the only reason I want to go to Blissdom is to meet all my bloggy friends and because I'll feel like I'm missing out on something (I have a MAJOR case of FMS in case you haven't already realized that) if I don't get to go.
the announcement of Rascal Flatts playing on Saturday night probably has absolutely nothing to do with me getting on that wait-list either. ;)
even if I don't end up at the actual conference I'm super excited about the Blissdom breakfast we have scheduled for that Sunday morning. I can't wait to meet some fellow Nashville girls as well as one of my bloggy favorites - AP! Seriously, I get giddy thinking about it! I'm so lame! Btw, if you're still going to be here Sunday morning and you want to come, let us know and we'll send you the details.
What are you saying "so what" to this week?