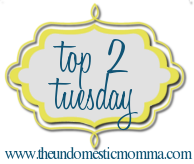 It's been
forever
awhile since I linked up with
Taylor
for Top 2 Tuesday and since I'm totally having blogger's block lately I decided today was a good day to revisit her. This week's topic is
Top 2 Random Things About Yourself
1.
I hate milk.
Like loathe it and it makes me gag if I have to drink it hate it. Pretty much the only way it slithers into my system is if I have to use it for cooking. Otherwise, not gonna happen. And yes, I'm one of those people who eats my cereal dry.
2.
I spent an entire summer in North Pole, AK.
Yes, it does exist. And, yes, Santa totally lives there. It was the summer after my freshman year of high school. My aunt & uncle live there so I thought it would be fun to go stay with them and my parents agreed so off I went. It's a beautiful place and if you ever get the chance to go to Alaska you really should. I have TONS of pictures from this trip. Unfortunately, since that was circa 1996 they are definitely not digital and I'm not even 100% sure at the moment where they are. Note to self - ask parents about this next time I talk to them!
via Somewhere there is a picture of my 13 year old self next to this sign.
What's a random fact about you? Tell me or, better yet, go visit
The Undomestic Momma
and tell us all! Happy Tuesday, everyone!