Hey everyone. Sorry about being MIA yesterday, but I was just plain tired to be honest. Tuesday caught up with me and it took me longer than expected to recover. Anyways, now that I'm back it's time for Thoughtless Thursday over at the
Fulmer Lane
.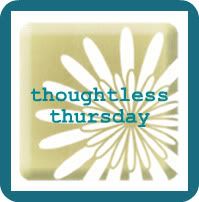 I mentioned Monday that my sister was coming in town. Her husband is a marine and they just got orders to be transferred to Camp Pendleton in CA (they were previously stationed at Cherry Point in Havelock, NC). On their way across the country they stopped in Nashvegas and stayed with me and the husband Monday and Tuesday night. Tuesday we went to the
zoo
and we had a great time, but all that walking wore me out! Anyways, here are some pictures from our day.
Some kind of parrot - he was gorgeous!
A meerkat - so freaking cute - I could watch them all day!
Lemur - look at that tail!
Tapir - these are related to both horses and rhinoceroses - there is an entire family of them here.
This is the baby tapir - Noah - he was born the day of the floods.
Albino wallaby - these are new and they are in the petting zoo portion. We probably spent 30 minutes playing
with him.
I'm now
trying to convinve the husband that we NEED one of these! :)
And for those of you who have requested a recent bump picture, here are some of me and my sister (yes, I know - we look absolutely NOTHING alike - we're actually half sisters and I look just like our mom and she looks just like her dad). You can kind of see the bump in them; although, it's actually bigger in person because it extends farther than my chest at this point, but you can't tell that from either of these pictures. Oh well, it's all I've got at the moment!
Please ignore the fact that I look EXHAUSTED in this picture - this was taken after spending 6 hours at the zoo!
Me, my sister & the husband - I was going to work, the sister was leaving to drive the next leg of their trip and the
husband had just got off work.
So much for "thoughtless" - this post leaned more towards thoughtful, but oh well! Wanna play along? Head on over to
Katie's
and link up. See you tomorrow!