Sorry for being MIA yesterday - I just couldn't get it together apparently. Actually, since we're going out of town again this weekend and a fabulous friend is staying with Lexi so she doesn't have to go to the spa again, I spent the night cleaning the house and just ran out of time for posting - terrible, I know. I really need to get my priorities in order, huh?
Now that I'm back I first want to say thanks for your sweet thoughts for the husband...he passed his kidney stone late Tuesday afternoon so yay for no surgery! Now it's time for Thoughtless Thursday over at
Katie's
.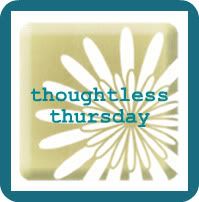 Yesterday we had another ultrasound and got to see little miss Abby - melt my heart! I know it's totally cheesy and cliche, but who would have ever thought that me and the husband could already be so head over heels in love with someone we haven't even technically met?!?! We just can't wait for her to get here! According to the ultrasound, she's developing perfectly and is about 2 lbs, 12 oz (53%). She's also head down (although the tech told us she could flip a few more times because she still has a little bit of room in there) and ready to go. Here are her latest pictures - they're pretty blurry because (1) she's facing my back, (2) the placenta was directly in front of her face, and (3) I took these with my iPhone.
4D facial profile - she has one of her hands (upside down in front of her eyes) and one of her knees (the curved
thing pointing
at her mouth)
in front of her face as well - she's pretty darn flexible!
Happy Thursday, everyone! Stop by
The Fulmer's
and play along!